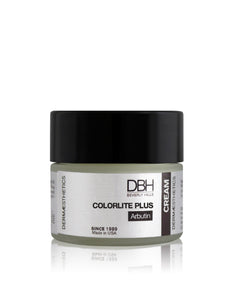 How It Works:
The Colorlite Plus is Dermaesthetics' signature lightening and brightening cream. Enhanced with Arbutin and Dermaesthetics' exclusive Whitening Plus Power-Blend Formula, Colorlite effectiveness can be seen as quickly as 14 days and within the normal skin cycle of approximately 28 days. Containing several tyrosinase inhibitors, the Colorlite Plus is formulated to aid in the prevention of excess melanin production. As the heart of the Color Correction System, Colorlite Plus unveils a clear and even-toned complexion.
Skin Types:
Aging
Dry
Hyperpigmentation
Normal/Combination
Directions to Use: 
After cleansing face and applying serums, apply a dime size amount and massage thoroughly into face and neck. Use day and night.
Key Ingredients:
Licorice Root evens skin tone and protects from UV rays. Arbutin brightens skin and prevents dark spots. Dulse extract gives moisture to the skin.
Key Functions: 
Brightening
Firming
Protecting
Preventing