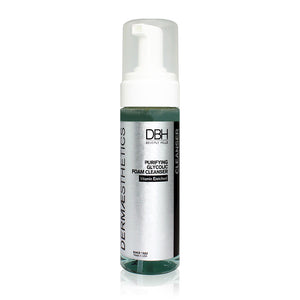 How It Works:
Foaming for sensitive and smooth application, the Purifying Glycolic Foam Cleanser is a Glycolic 3% pure cleanser that gently washes away dirt, debris, toxins, and dead skin cells. 
Skin Types:
Directions for use:
Lather one pump amount of cleanser in moistened hands and apply to the dampened face and neck. Rinse with cool water.
Key Ingredients:
Cleans the skin while exfoliating, brightening, and fighting signs of aging.
Used in cosmetics as an emollient for dry skin.
Used for its known abilities for repair and minimizing future blemishes.
 Aids to nourish and prevent the appearance of dry.
Key Functions:
Exfoliating
Balancing
Hydrating
Cleansing